Art and athletes seem to be on the opposite end of the spectrum but in actuality are one and the same. Even though athletes might not use an actual canvas to express art and creativity, sports can be viewed as art in motion. Let's take a look at how Serena Williams, Usain Bolt, Tyson Chandler, Carmelo Anthony, and are inspired by art.
Serena Williams
Serena Williams openly expresses her love for art. She took painting lessons in Paris before the French Open while debuting her "Expressions" series of paintings. Serena also went to Art Basel Miami for a celebration of the pop-up of her fashion line. The Serena line was launched in 2018 and continues to renew her passion for what she is doing with the brand. According to Serena, "painting is more than a hobby.
Usain Bolt
Usain Bolt might be considered one of the greatest track stars of our generation nonetheless, he is more than just an athlete. Usain Bolt is an accomplished photographer and dancer. He uses photography and dancing to express his creative side. During the 2012 Olympics, Usain Bolt captured shots of his teammates while on the track. Usain has a profound passion for dancing and photography.
Tyson Chandler
Tyson Chandler has his own photography exhibit. Tyson Chandler has always had a passion for art but found photography as another interesting way to capture a moment, which tells a story. Tyson uses cameras such as Nikon, Fujifilm, and Canon to express his ideas through photography. If Tyson Chandler was not an active NBA player, he would like to develop a show that would explore the NBA behind the scenes. Tyson uses art and photography to tell his story.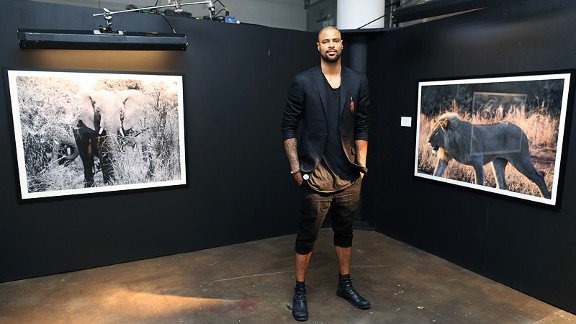 Carmelo Anthony
Carmelo Anthony is a huge art collector in the sense of his Jordan Brand Terminal 23 gym being a museum. Carmelo has always had a fondness for grattfi, tattoos, and pop culture. Within the last five years, Carmelo Anthony has become a trailblazer for NBA players being actively involved in the art world.
Jodan Clarkson
Jordan Clarkson uniquely uses his body as a canvass for art. Jordan uses his tattoos to display his personal stories. It is estimated that he has spent over $20,000 on tattoos on his body. Jordan Clarkson uses his tattoos to serve as a constant reminder of not only his journey involving basketball but his journey as a man.
There are tons of athletes who are inspired by art. Serena Williams, Usain Bolt, Tyson Chandler, Carmelo Anthony, and Jordan Clarkson all have an endless passion for art, whether its painting, photography or using their body as a canvass.